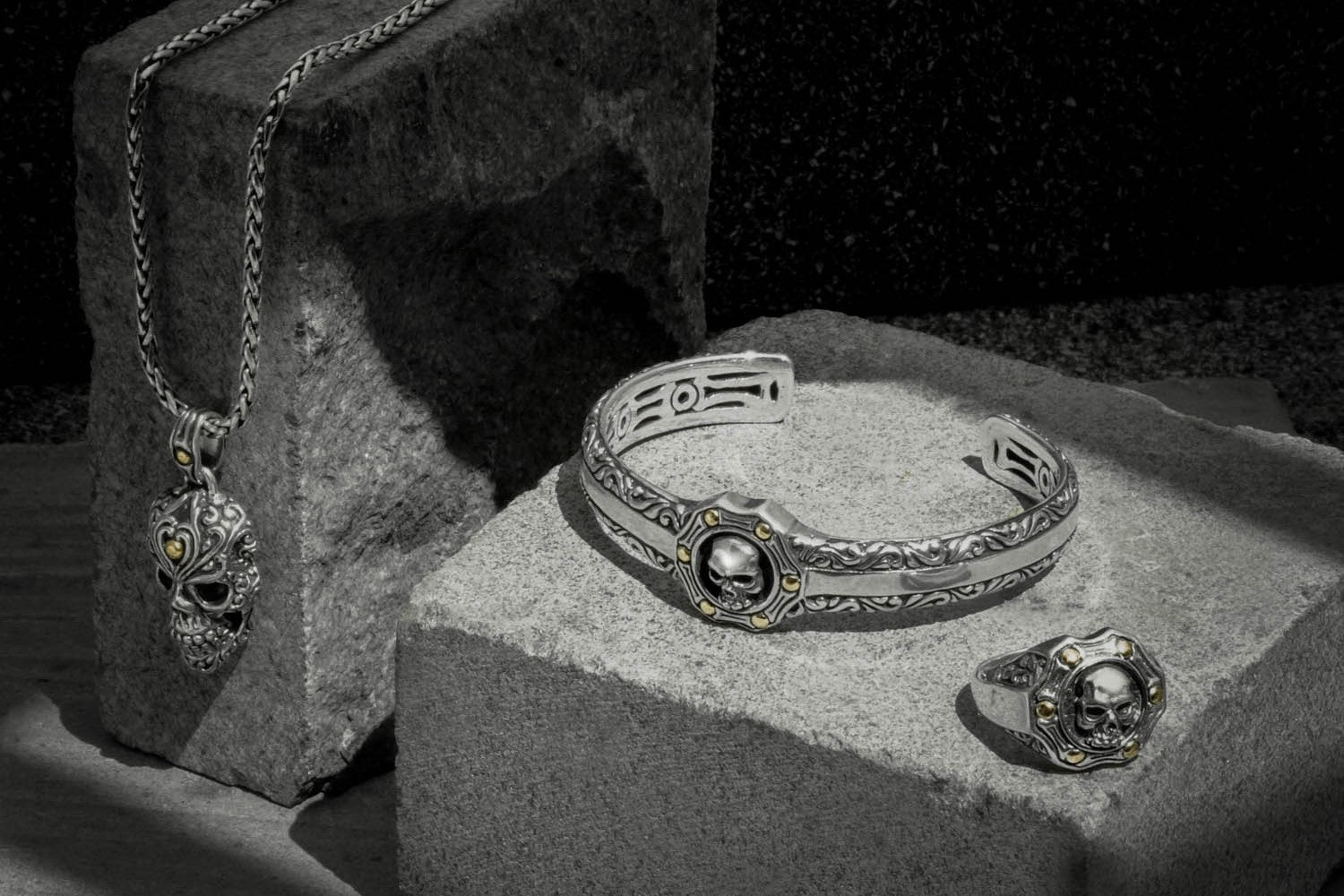 Jewelry for October Celebrations: Halloween-Themed Jewelry
Halloween, a holiday marked by spooks and ghosts, offers the ideal occasion to embrace distinctive and fun styling choices through fashion as well as jewelry collections. To fit your Halloween style, Sunaka Jewelry presents the Trunyan collection with everything from traditional emblems to gothic inspirations. One of the main features of our design, the skull in the graveyard of Bali's Trunyan Village served as the inspiration for the Trunyan Collection. The bold skull motif of these pieces are adorned with Balinese ethnic carving technique, and we create this collection specially for men who want to engage jewelry in their styling to show their strong personalities. Our Trunyan collection which is made of Sterling Silver and 18k Gold, stands for toughness, strength, and luxury.
Keep scrolling down till the end to find your best spooky jewelry pick, and get ready to scare everyone!
Spooky charm – Trunyan Flat Pendant
Skull pendants are particularly popular in the alternative and gothic fashion movements. It has the feel of a timeless design, and our pieces are produced with a modern twist. If you're seeking a way to express your rebelliousness or even establish an outrageous fashion statement, the Trunyan Flat Pendant is the perfect choice for you. This pendant can be effortlessly combined with any necklace strings to suit your personal taste.
Trunyan Signet Ring
A powerful way to light up your Halloween style. With just a small lift of your fingers, this skull ring will send shivers down the spines of everybody who sees it. Skulls may also represent the power of life, and we created it to help you feel confident in your very own personal style. Additionally, our Trunyan Signet Ring is a chic statement piece that will never go out of style, and you will never miss anyone's attention when you wear it!
Trunyan Bracelet Double Chain Silver
A timeless and never-out-of-style jewelry piece! With a striking skull element and a combination of 18k gold design, our Trunyan Bracelet Double Chain combines two chain motifs in one jewelry item. This piece can also be very versatile that you can style it with any outfit and have it look effortlessly classy and amazing no matter what the occasion.
Halloween can be a fun time to experiment with your style, and our Trunyan collections are available to step up your spooky game. You're going to kill this theme, aren't you? Grab your own pieces now.
Visit our online shop at https://shopsunakajewelry.com/collections or our offline store at https://maps.app.goo.gl/VezE7M7DDVxn2nt86