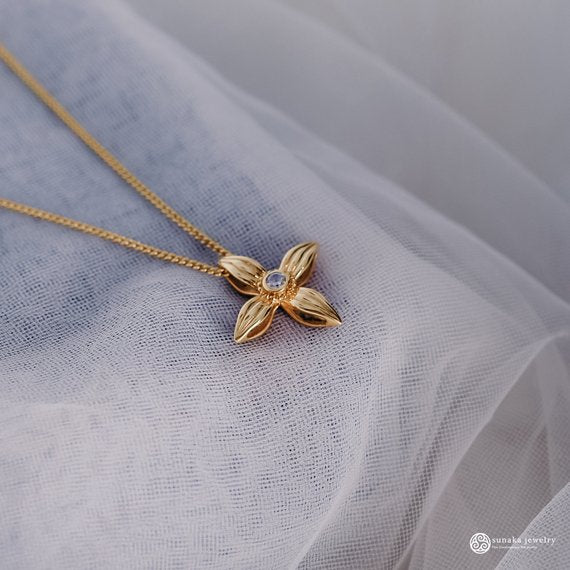 A SPECIAL GIFT FOR YOUR BRIDESMAIDS
Raise your hand if you agree this is a wedding season!
As a bride, you want to make everything perfect on your wedding day. But, sometimes it is easier to get caught up in circular distraction, rather focused on leading up the wedding. That's why bridesmaids are mattered the most, they like a lifesaver when you're downing in the sea of nowhere.  They deserve more than thank you and of course a few unique bridesmaid gifts – than you ready to rock your bridal party.
Stumped on a way to honor your bridesmaids with something original and delicate? We did the homework for you! Here's some unique gift option from Sunaka Jewelry collection, which will be a timeless and meaningful gift for your special one. (es)
Asoka Dainty Pendant | IDR 400,000
The delicate petite design makes Asoka pendant fits to use daily. This pendant symbolizes happiness because Ashok is a Sanskrit word meaning without grief or gives no grief.
Hammer Permata Ring | IDR 375,000
Hammer Permata coming in different options of gemstones, which each ring personalized with birthstone. As a gift, this ring will give intimate feelings to your bridesmaids.
Jawan Bunga Pendant | IDR 120,000 – IDR 220,000
Simple and fits every style! These two words reflect Jawan Bunga Pendant. This pendant combining the traditional design in a petite delicate design.
Ombak Segara Mini Dangle Earrings (rose gold) | IDR 500,000
This collection is the most selling collection of Sunaka Jewelry that inspires from raging waves in Segara Beach, Kuta. With the adornment of bun and jawan (Celuk's traditional patterns), this will be a perfect gift which carrying hope that the wearer will always be strong just like raging waves.
--
Shop this collection
https://www.etsy.com/shop/SunakaJewelry
https://shopsunakajewelry.com
www.sunakajewelry.com/id/shop
https://tokopedia.com/sunakajewelry
CS: +6281 139604855
LINE: @sunakajewelry
or alternately, visit our outlet at
Beachwalk Level 3rd
Level 21 Mall 2nd Floor
Jl. Jaga Raga No. 28B, Celuk, Gianyar
---
By admin #BalineseJewelry #BalineseSilver #Gold #Jewelry#balinesejewelry #balisilver#gemstone#jewelrydesign#SilverJewelry#SterlingSilver#SunakaJewelry #SunakaKnowledge#wedding #weddingjewelry #weddinggift